Interview with Lola Berry
06 July 2015

06 July 2015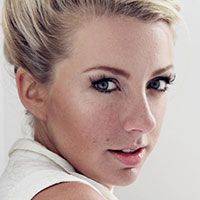 Lola Berry

Lola Berry is a nutritionist on a mission to let the world know that healthy eating and living is easy and fun. She spreads her message via TV, radio, instagram, twitter, facebook, youtube, her website and in person, and her enthusiasm is contagious! Lola's energetic, offbeat approach to an often-complicated subject has made her one of the most popular personalities in the health space. She is constantly finding creative ways to help people make small achievable changes in their lives. Her third book, The 20/20 Diet Cookbook, became the number one lifestyle book in Australia. 
---
You've been an inspiration in the craft of health, fitness and nutrition. What got you started and how did it all come together?
Honestly, I've always grown up as a bit of health nerd – mum used to send me to school with spirulina energy balls. But as I hit my teens and turned 18, I let the health side go and was more into dj-ing and didn't really care so much about the health side of things. I mean my favourite food was lamingtons and giant caramel koalas! Then I shamelessly had this crush on a boy, and wanted to feel great in my bikini. So I went on a what I called a summertime detox. Then I just started to feel awesome, my skin was clear, I could sleep better, my eyes were bright, I was nicer. I realised that the food we eat has a huge impact on the person we are, both inside and out. I started reading up about super foods and was always too scared to study nutrition as I felt I wasn't smart enough. But I dove into the deep end and began a degree in nutritional medicine. Then three months into the degree I had a penny drop moment, and I thought, I've got it, Steve Iriwn of fruits and veggies! That's when i got 3 jobs, saved up and bought a video camera, then I'd just practise filming every day. That's how it all started really.
What is your main philosophy on healthy living?
It's pretty simple. Eat real food. I believe food is here to share with the people you love and to nourish you.
How do you stay motivated?
I go by how I "feel" and my drive is to feel my best. When you tap into that all the other stuff falls away, you tend to "own it" a bit more and care less about what other people think.
Any advice for those who struggle with maintaining a healthy lifestyle?
Exactly that, get back to what makes you feel really good. When you feel good, you look good, you are happier and often the best version of you.
Australia's leading nutritionist, blogger, and best-selling author Lola Berry
When you set out to travel, what are the things you never fail to carry with you? What makes up your checklist?
Oh I love this question! First up: Water - you always want to stay hydrated when you fly, always. Then I pack a spray toner, I use this one from a company called "People for Plants" it's my go to. I also pack my own creation called the "Oscar Youth Elixir" which is a rose hip, macadamia oil, calendular, and flower essence facial serum. Then of course you've got to have healthy snacks like raw chocolate, raw nuts and seeds are brill too and home made energy balls are brill. I also pack my own teabags then just ask for hot water. I love watching movies on a long flight and drinking tea for some reason. I also always carry and wear rose oil for good luck and to keep my heart open. Hippie, I know, but i love it!

Any tips you could share about staying healthy whilst travelling?
I used to get really anxious about staying healthy when I travelled. Then this one comment changed everything for me. A great friend has always said to me "Lola, you can be healthy anywhere and you can be unhealthy anywhere. You get to choose." So now I just keep that mantra and I take the time to find the healthy spots and always pack my yoga gear to suss out the local studios and my runners so I can go exploring out in nature.
What is your go-to fitness routine when you are traveling?
Yoga and nature walks. I love exploring new spots!
Lola Berry practising yoga on the beach
In a nutshell, describe your ideal health retreat?
Oh well, I've been lucky enough to visit Aro Ha and that's a combo of yoges, mindfulness, hiking and all in the stunning mountains of New Zealand so to be honest nothing has really beaten that.

Why do you think people are drawn to healthy holidays?
Because you can get out and explore a new place without forgoing your health. I know most health conscious people want to stay healthy. So I think healthy holidays are perfect!
What's next on your list of wellness travel destinations?
I am counting down until I can next get back to Aro Ha!